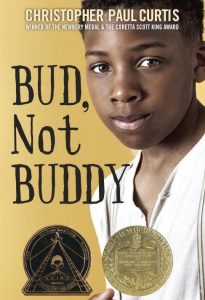 The book Bud, Not Buddy, written by Christopher Paul Curtis, has many different events and turnarounds that take place. The setting is in Michigan and around the time of the Great Depression. It starts off with Bud being in a place called the "Home" with other children. The "Home" is known to be a place for orphans or for children who are waiting for their parents to get out of what ever kind of trouble they may be in for the time being. Ironically, this place is called a home, but it is far from that. The children are constantly crying, extremely malnourished, and not receiving any kind of basic care and support a child needs. 
In the first chapter, Bud and Jerry, a younger boy also in the home, are told that they are both being sent to different foster families to live. While Jerry is crying, Bud comforts him by saying Jerry will be far better off living with his foster family than Bud is. Bud then mentions that he will be living with a twelve year old foster brother, so there is a great chance that Bud and his new foster brother will be fighting many times. At this very moment Bud says to himself that his eyes no longer "sting" or actually cry like Jerry's. Bud feels like he has been through so much that his eyes have no more tears left; his mother passed away when he was six, and he has been through two foster homes already. He never knew his father or any other members of his family. Bud wanted to belong to one, but he knew no one else besides his mother. 
Once Bud goes to his new foster home, he gets into a fight on his first night. He finds himself at the point where it'd be pointless to keep fighting his foster brother. Bud is then punished and sent to a shed where he is cut by fish skeleton skulls and stung by hornets. He attempts to break free through the window of the shed and goes back into the Amoses' home. He takes his suitcase and plays a prank on the foster brother before he leaves to go to the library where a close family friend could be found. He had intended on making it to a kitchen that feeds those unfortunate or in need, but he wakes up later than he had planned. He runs to the kitchen, but is quickly threatened to be beaten unless he leaves immediately. A man then pretends to be Bud's father to get Bud out of trouble and something to eat. The family takes him in and Bud enjoys a good breakfast for him to eat. In this case we notice that Bud does not like to helped very much. He appears to be so hard of a shell that he does not expect or truly want help from anyone. Bud appears to not trust anyone at any point, even while he is asleep. 
Some time goes by and Bud gets a surprise visit from his friend Bugs. Bugs tells Bud there is work out West to pick fruit and be able to have money for themselves. They stop by a shelter, where Bud notices a Caucasian family who have a sick child. They refuse to be helped because also, at this point in time, those who were Caucasian were supposed to be well off and not in need of help from anyone, especially from minorities. It shows someone needing help, but refusing it because of their pride. In a different way it seems to represent Bud as well. He likes to be on his own, no matter how unhealthy or malnourished he is.  
Bud wakes up the next morning late for the train along with his friend Bugs. They grab their belongings and sprint through the woods along with the other men trying to go out west to find jobs. Bugs makes it onto the train, but Bud does not. He then decides to make his way to the Grand Rapids on his own. While he comes back to the place that he and Bugs once were, he noticed that the police were destroying all of the supplies and kettles of those who used them to cook and provide for the families and children who had lived with them. The families in Hooverville call the policemen cowards because they had attacked once the men had left. The families were not protected or safe, and now they barely have enough supplies to live by. This scene hints at the injustice that many of those who are unfortunate have faced in the past and even today. Bud sees this and decides to run away. He continues to make his way to the Grand Rapids to finally meet his father. 
Bud travels throughout the story from soup kitchens to a shantytown called Hooverville where he met many people who taught him lessons and gave him help in all the ways that they could provide for him. He runs into Lefty Lewis in the Grand Rapids who had lured Bud into feeding him and taking him to his house for better care, clothes, and food. Lefty Lewis took Bud to the place were his "dad" was at so they could meet together, but Bud was hesitant about going in. Once he gets the courage, he boldly points at Calloway and claimed that was his father. For days Mr. Calloway ignores Bud and wants nothing to do with him. Once the time comes, Bud proved that he was in some way related to Calloway, but in a rather angry way. Bud then learns from that Mr. Calloway is actually his grandfather. It had taken a toll on Mr. Calloway because he had not seen or heard from his daughter in such a long time. At the end of the story Bud finally finds a real home that is not temporary or detrimental to his health or his life. Bud is now in a place where it is okay to cry, be happy, and healthy. At this point in time he has the life as a ten-year-old boy should.