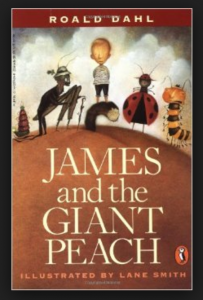 This time around, we read the book James and the Giant Peach written by Roald Dahl who is an English author. In this book we find that the main character, James, was once a happy boy who lived with his family near the beach. He was an extremely content and joyful little boy. In the next chapter, the audience soon finds out that both of his loving parents died a strange death by a rhinoceros, thus leading to James living with his horrible aunts. He then is discovered by a strange man who offers James a bag filled with magical beings that ultimately changes James' life forever.
At this point we are introduced to the giant peach and the creatures living within it. James spends the night with these creatures. Suddenly, he is awakened by the peach shifting and breaking off of its branch. As this is happening, James' aunts are crushed and killed by the peach as it rolls away. This is when the journey of the creatures and James begins.
Throughout the story, James gets the feeling of belonging from the creatures. He is trusted and treated as an individual of intelligence. Along with that, he learns to care enough to ask about the creatures' backstories and lives. This ultimately teaches a person to genuinely care about others among yourself. Also, it shows that sometimes what others deem as "ridiculous" or "peculiar," others see as wonderful and amazing.